Newsletter Archives
Catch up on the latest in family history with these articles from GenealogyBank News
March 2023 Newsletter
---
Past Issue Archive
Select the month and year below
---
FREE Newsletter!
Get online search tips, exclusive offers and other helpful information to aid your genealogy research.
Was Your Ancestor Buried? A Short History of Cremation
Introduction: In this article, Gena Philibert-Ortega discusses the possibility that your ancestor was cremated rather than buried, and gives research tips. Gena is a genealogist and author of the book "From the Family Kitchen."
Have you become frustrated trying to find your ancestor's burial place? In previous blog articles we have discussed reasons why you can't find an ancestral burial, but there is one possibility that we haven't discussed.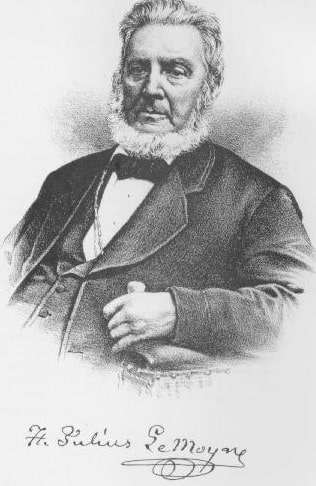 Have you considered that your ancestor may not have been buried at all? Cremation has been an option in the United States since the late 19th century. Though not hugely popular – until 1980 less than 10% of burials were cremations – there were those who felt it was the best option for disposing of remains. (1) It's important to keep in mind that even if you think your family would have been opposed to cremation for religious reasons, there were others who didn't have a choice due to circumstances outside of their control, such as dying during a natural disaster where the need for cremation was the only option.
We don't discuss cremation in genealogy often but it is one of the possibilities we must consider when we are conducting late 19th and 20th century research.
A Short History
The first crematory in the United States was in Washington, Pennsylvania, and it operated from 1876 to 1901. Dr F. Julius LeMoyne believed that the burial of bodies posed some health threats to the living, including the possibility of embalmed bodies leaking toxins into drinking water.
Already in his 70s and turned away from adding a crematory to the local cemetery, he built one on his own property. LeMoyne's first cremation was a sheep to ensure that his crematory was in working order before taking human customers.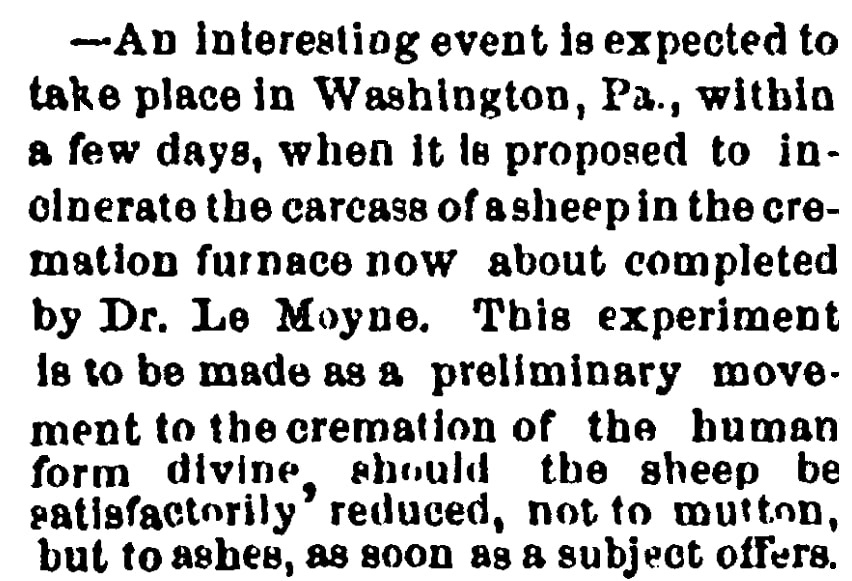 His first customer came a few months later. Joseph Henry Louis Charles, Baron de Palm, was the first person cremated in the U.S., on 6 December 1876.
A crowd of 100 people came to watch the transformation of the 160-pound man into 6 pounds of ashes. As you can imagine, since cremation was in its infancy in the United States, the event was controversial and resulted in newspaper reports, debates on cremation, accusations, and even photographs that could be purchased of the Cremation Hall.
A local newspaper, the Washington Review and Examiner, reported on the spectacle of that day.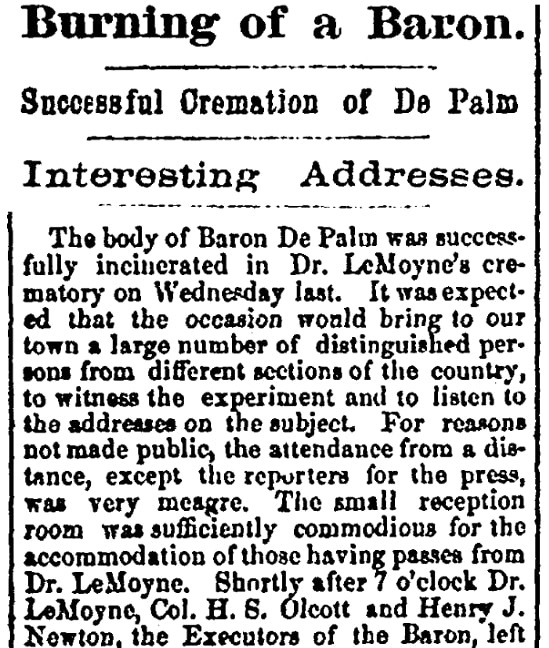 All in all, Dr. LeMoyne's Crematory was the choice for 41 people from multiple states including Pennsylvania, Ohio, Illinois, New York, and Indiana. The first woman to be cremated was LeMoyne's second customer, Mrs. Jane Pitman (wife of Benjamin Pitman, who popularized his version of shorthand), and the third customer was Dr. LeMoyne himself.
While early cremations were not a popular choice for American families – and there were some strong feelings about it, including religious objections – it was available. By 1887, Lancaster, Pennsylvania; Cincinnati, Ohio; Los Angeles, California; Buffalo, New York; and Detroit, Michigan, had crematories. (2) The industry journal The Urn, first published in 1892, featured articles promoting cremations and highlighted the various crematories in the United States, such as this one in St. Louis, Missouri. (3)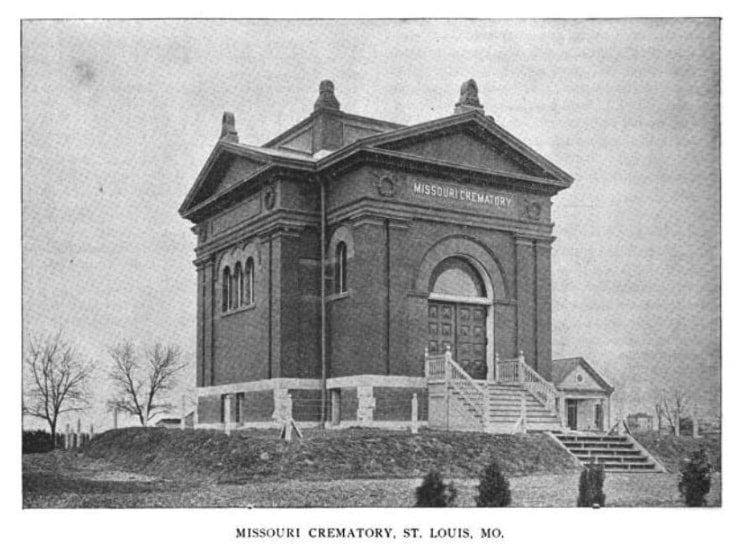 Not all the people who were cremated chose this option, or were cremated in a crematory in the United States. In some cases, bodies were cremated out of necessity due to large-scale disasters such as the 1900 Galveston, Texas, hurricane.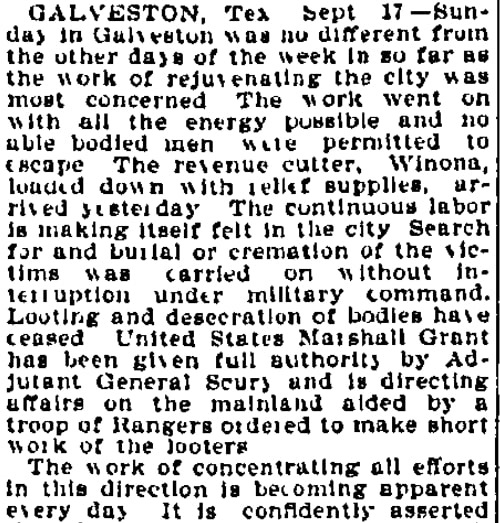 Since the beginning of cremation in the United States and shortly thereafter, cremains have been stored in urns and either buried or placed in columbarium niches – but not all were. Inurnment of cremains was not a priority for cremationists until 1920 when, according to the Cremation Association of North America, it became a priority. (4) Throughout its history, cremains could have been scattered or simply lost. In that case there would be no marker for them, and no recording of what happened or a final resting place. If your ancestor was cremated, the only clue may be found in the death certificate, funeral home record, or newspaper obituary.
Not Everyone Is Buried
It's important to access death records for your ancestor, but keep in mind that their final resting place may be influenced by their historical era, the circumstances surrounding their death, their personal beliefs, finances, and what was available.
Explore over 330 years of newspapers and historical records in GenealogyBank. Discover your family story! Start a 7-Day Free Trial
Note on the header image: Dr. F. Julius LeMoyne's crematorium in Washington, Pennsylvania. Credit: Theosophical Society in America; Theosophy Wiki.
Related Articles:
________________
(1) "Cremation Rate in the United States from 1975 to 2021 with a Forecast for 2025," Statisa (https://www.statista.com/statistics/251702/cremation-rate-in-the-united-states/: accessed 18 January 2023).
(2) "Why the First Cremation in the U.S. Was So Controversial," Atlas Obscura (https://www.atlasobscura.com/articles/why-the-first-cremation-in-the-us-was-so-controversial: accessed 14 January 2023).
(3) Some issues of "The Urn" are available online at Google Books https://www.google.com/books/edition/The_Urn/o9AsAAAAYAAJ?hl=en&gbpv=0.
(4) "Cremated Remains: A History," Cremation Association of North America (https://www.cremationassociation.org/blogpost/776820/301401/Cremated-Remains-A-History: accessed 14 January 2023).